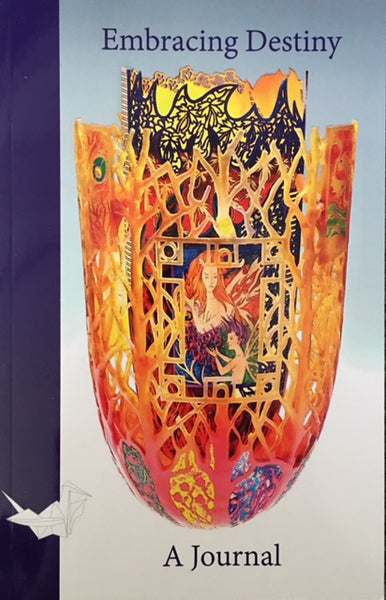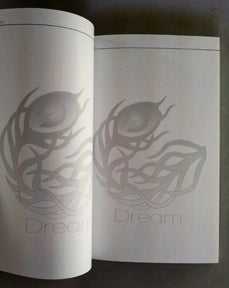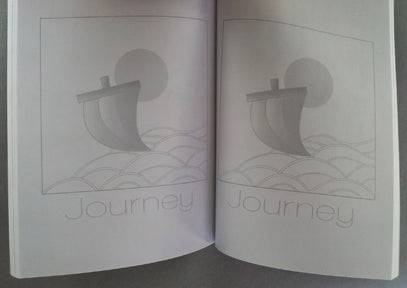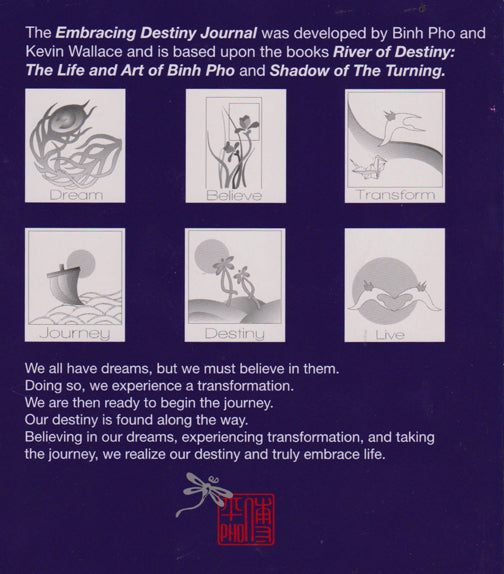 Embracing Destiny: A Journal
Created by Binh Pho and Kevin Wallace
Binding: soft cover
Please call 805-646-3381 if you wish to order by phone.
Please inquire regarding international shipping charges:  BeatriceWoodCenter@gmail.com 
or (805) 646-3381.
Description
This journal created by Binh Pho and Kevin Wallace, Director of the Beatrice Wood Center for the Arts, is based upon the books River of Destiny: The Life and Work of Binh Pho and Shadow of The Turning. 

"Getting to know Binh Pho, I found that we both embraced the rather old-fashioned concept of Destiny – a way of viewing life that is often obvious in retrospect, but challenging to embrace as life unfolds," Wallace says. "In writing a book on his life, a structure revealed itself that is based on six words: Dream, Believe, Transform, Journey, Destiny, and Live."
Writing the second book, a work of fiction, this same structure was engaged. The Embracing Destiny Journal is a means of allowing others to take these ideas to explore their own lives and creative processes.
Background:
In 2006, the book River of Destiny: The Life and Work of Binh Pho was published in conjunction with an exhibition of the artist's work at the Long Beach Museum of Art. A collaboration between artist Binh Pho and writer/curator Kevin Wallace, the book juxtaposed the artist's work with his life story, Vietnamese history and myth and an exploration of symbolism and philosophy. The exhibition received rave reviews and was enthusiastically received by museum visitors, and the book continues to make an impression upon readers, allowing them to experience Binh Pho's work and his life's journey.
By the time the book was published, the two had already begun discussing another collaboration. River of Destiny had covered Pho's childhood in Vietnam, eyewitness accounts of the Fall of Saigon, life in a Communist prison camp, his daring escape and new life in the United States of America. They decided to move beyond biographical exploration to take a bold, visionary approach to the new project.
Shadow of The Turning, like its predecessor, focuses on art, philosophy and storytelling, yet is an entirely fictional story, blending the mythic worlds of fairy tale, fantasy, romance and adventure. It creates a bridge between literature, art world approaches to concept and narrative and craft traditions. The story is "illustrated" using an exciting new body of work by Binh Pho, created in collaboration with an international group of artists.
About Kevin Wallace
Kevin Wallace has guest-curated exhibitions for the Los Angeles County Museum of Art, the Craft and Folk Art Museum, Los Angeles, the Long Beach Museum of Art, the Cultural Affairs Department of Los Angeles, the Los Angeles International Airport, and others. He is the author or coauthor of numerous books on contemporary art, woodturning, ceramics, glass, and basketry and has contributed to many international periodicals. Wallace is director of the Beatrice Wood Center for the Arts in Ojai, California, and regularly lectures and presents workshops on the intersection of art and life.