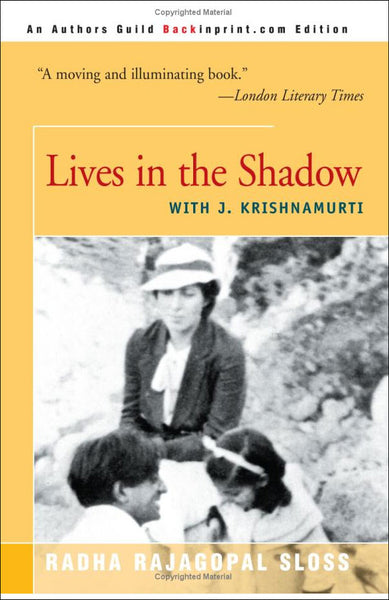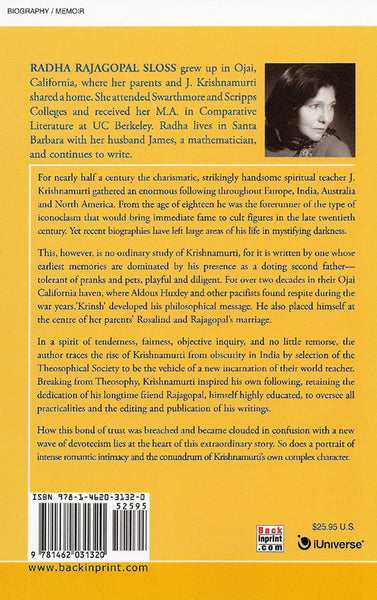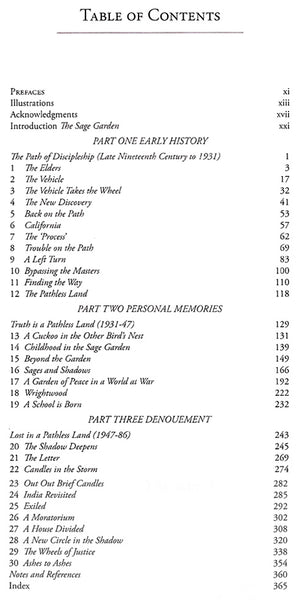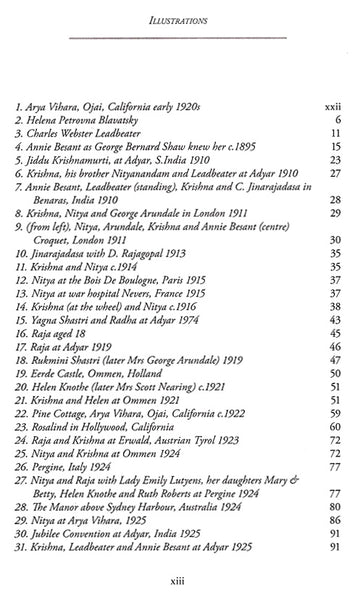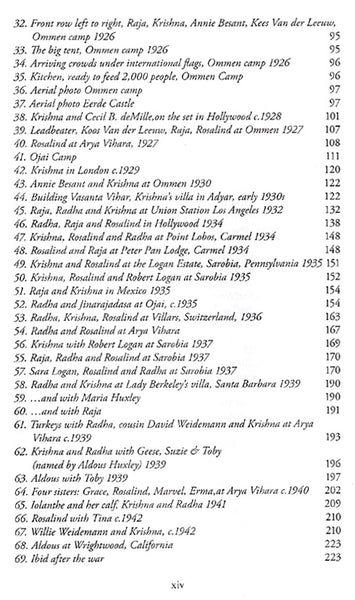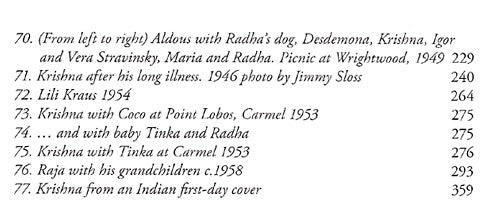 Lives in the Shadow with J. Krishnamurti
By Radha Rajagopal Sloss
Publisher ‏ : ‎

 

iUniverse Publishing (August 30, 2011)

Language ‏ : ‎

 

English

Paperback ‏ : ‎

 

396 pages

ISBN-10 ‏ : ‎

 

1462031323

ISBN-13 ‏ : ‎

 

978-1462031320

Item Weight ‏ : ‎

 

1.16 pounds

Dimensions ‏ : ‎

 

6 x 0.9 x 9 inches
For nearly half a century the charismatic, strikingly handsome spiritual teacher J. Krishnamurti gathered an enormous following throughout Europe, India, Australia and North America. From the age of eighteen he was the forerunner of the type of iconoclasm that would bring immediate fame to cult figures in the late twentieth century. Yet recent biographies have left large areas of his life in mystifying darkness.
This, however, is no ordinary study of Krishnamurti, for it is written by one whose earliest memories are dominated by his presence as a doting second father-tolerant of pranks and pets, playful and diligent. For over two decades in their Ojai California haven, where Aldous Huxley and other pacifists found respite during the war years,'Krinsh' developed his philosophical message. He also placed himself at the centre of her parents' Rosalind and Rajagopal's marriage.
In a spirit of tenderness, fairness, objective inquiry, and no little remorse, the author traces the rise of Krishnamurti from obscurity in India by selection of the Theosophical Society to be the vehicle of a new incarnation of their world teacher. Breaking from Theosophy, Krishnamurti inspired his own following, retaining the dedication of his longtime friend Rajagopal, himself highly educated, to oversee all practicalities and the editing and publication of his writings.
How this bond of trust was breached and became clouded in confusion with a new wave of devoteeism lies at the heart of this extraordinary story. So does a portrait of intense romantic intimacy and the conundrum of Krishnamurti's own complex character.
"This is not only the story of one person. It is the story of the relationships of J. Krishnamurti and people closely involved with him, especially Rosalind Williams Rajagopal and D. Rajagopal, my mother and father, and of the consequences of this involvement on their lives. Recently there have been biographies and a biographical film on Krishnamurti that have left areas, and a large span of years, in mysterious darkness. It is not in the interest of historical integrity, especially where such a personality is concerned, that there be these areas of obscurity." Radha Rajagopal Sloss
About the Author
Radha Rajagopal Sloss grew up in Ojai, California, where her parents and J. Krishnamurti shared a home. Radha is a graduate of the Happy Valley School (now called the
Besant Hill School
), attended Swarthmore College for two years, BA from Scripps College and received an M.A. in Comparative Literature from UC Berkeley.
She has written two published books, India Beyond the Mirror, and Lives in the Shadow with J. Krishnamurti.  She has also written The Happy Valley Foundation's 'in-house' volume entitled The Story of Happy Valley.
Radha's earliest memories include picnics on Happy Valley. She and her husband, James Sloss met in the first year of the Happy Valley School with which they are still associated. Radha has served on the Happy Valley Foundation Board. 
Radha currently lives in Santa Barbara, CA with her husband James.
Endorsements for Lives in the Shadow by Radha Rajagopal Sloss
That "a man is not always a prophet in his own valley" is the theme of this vivid...memoir. The author is the only child of Krishnamurti's closest associate, Rajagopal, and his American wife Rosalind. Sloss's achievement in Lives in the Shadow with J. Krishnamurti is to have made him interesting without embalming him in flattery; she is able to do this...because she grew up in his ménage in California's Ojai valley, so she saw him every day at his most ordinary. She brings us insights and information that help to flesh out someone who has been projected as a spiritual skeleton by too many biographies...Without ever losing sight of her huge affection for her subject, Sloss is able to look beyond the myth...The book is filled with the joys of childhood and moves us gracefully through loss (there is an unforgettable scene where Rosalind helps Aldous Huxley to die by whispering lines from Island in his ear) it is because Radha Rajagopal Sloss writes as well as she does that we expect even more from her.
Firdaus Kanga,
Times Literary Supplement (London)
...an absorbing well written biography...an honest account by a girl whose mother had a 20-year long liaison with Krishnamurti and was treated by him as his own daughter. The facts it reveals are stranger and more fascinating than any fiction I have read in a long time.
Khushwant Singh,
Indian novelist and journalist, India
Every philosophy, Nietzsche wrote, is disguised autobiography. Radha points to the connection between Krishnamurti's teachings and his personal life. The problems he talked of with such deep understanding, of fear and its relation to death, ambition and insecurity, were the ones he struggled with. His frequent dissembling...arose from his wish to avoid unpleasant emotional situations...Those disappointed that he did not transcend human nature should ponder the words of Thomas Mann: "Truth demands the hard confession: that thought and spirit come badly off, in the long run, against nature."
Krishnamurti's penetrating insight into the human condition came out of his being profoundly human...None of us can ask for a better epitaph.
Sudhir Kakar,
Freudian psychoanalyst and writer, India Today