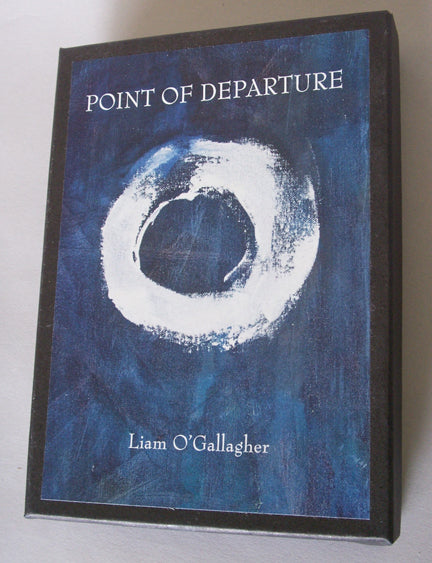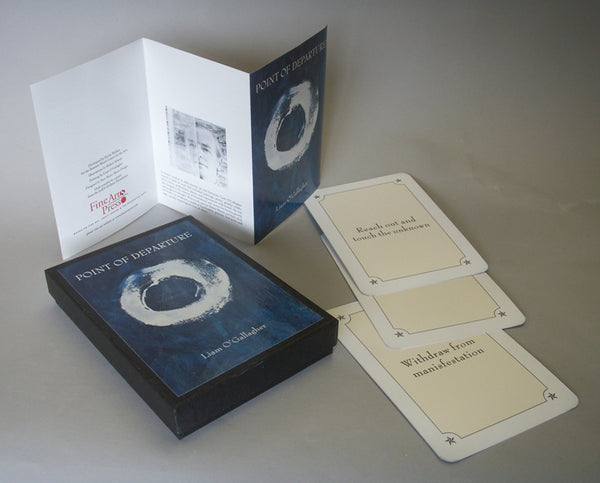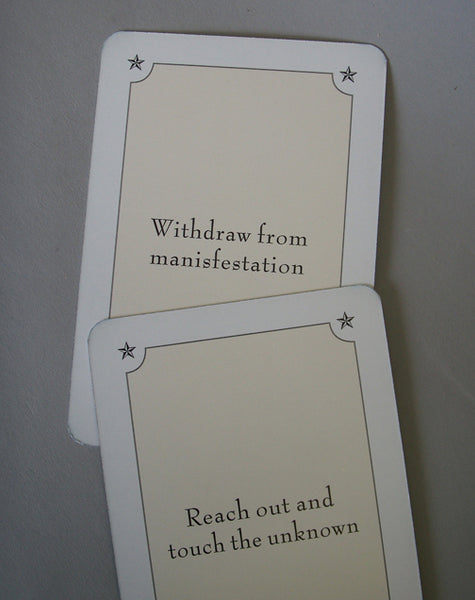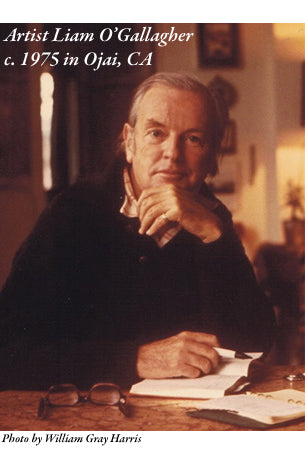 "Point of Departure" Card Set
A set of cards designed by the artist, Liam O'Gallagher.
Liam O'Gallagher was an avant-garde artist and teacher who pushed past the known boundaries of contemporary expression. His work included paintings, poetry, graphic work, short stories, performance pieces, and experiments with sound. He was also integral to the creation of foundations and centers for human growth, progressive thought and the arts - including the Beatrice Wood Center for the Arts.
Point of Departure
As with much of Liam O'Gallagher's work, Point of Departure draws upon myriad disciplines and studies, including Eastern philosophy, Western psychology and the processes employed by Dada artists to connect with the unconscious mind through random and seemingly nonsensical combinations of words. At the same time, it should not be utilized or comprehended in light of any of these approaches, as it is meant to exist in the spaces between them, thereby transcending previous forms of thought.
The cards are designed to be "played" in the manner of a game, though one wins by the movement toward a united consciousness, as opposed to victory over one of the other players. In fact, the other players are charged with assisting each other in expanding the game and inner experience of their fellow players. It is the role of the players to infuse the game with meaning—to explore how they each define and translate words, phrases and images. The game can be played alone for a singular experience, while playing with others allows for a deeper exploration of self. Regardless, the cards are to be used in an atmosphere of love, non-judgment and support.
The "game" is a means of maintaining an awareness that interacts, dissolves, changes and ultimately recreates the "players". Each card that is played must elicit some action (or in some cases inaction) for departure to a larger self. Cards might elicit a response based on association with what the card suggests and the players must define that meaning, even if it means challenging an accepted view on the part of another player. The game explores how an organism grows, the corresponding interrelationships and how the psyche knows no boundaries.
Point of Departure is a form of insight meditation with the reward being breakthroughs in being and all-at-once realization. The game is designed to remove obstructions, so the player might arrive at a state that is free of thought. The mind, suspended, utilizes the cards as fragments of meaning in the light of the whole of life.
To read more about Liam O'Gallagher, please visit: www.liamogallagherartist.com