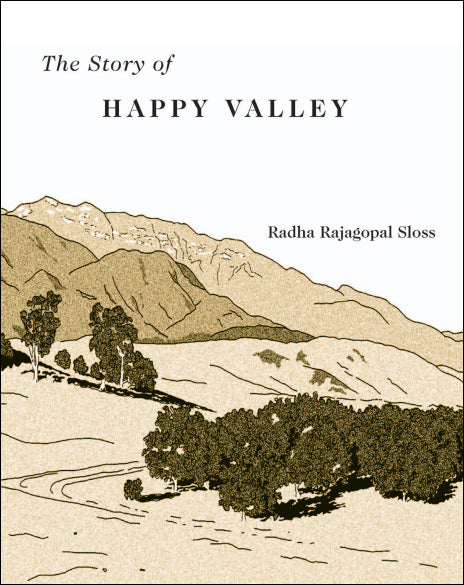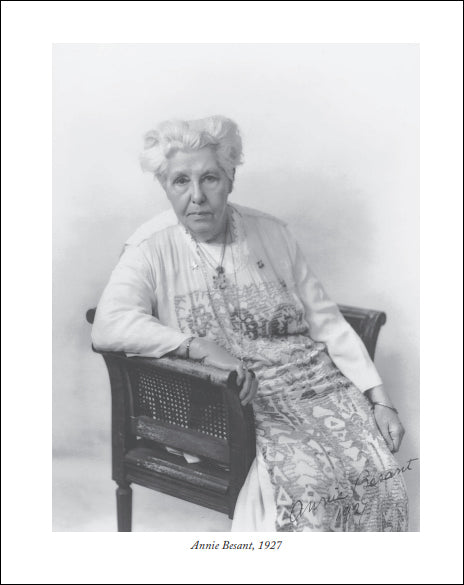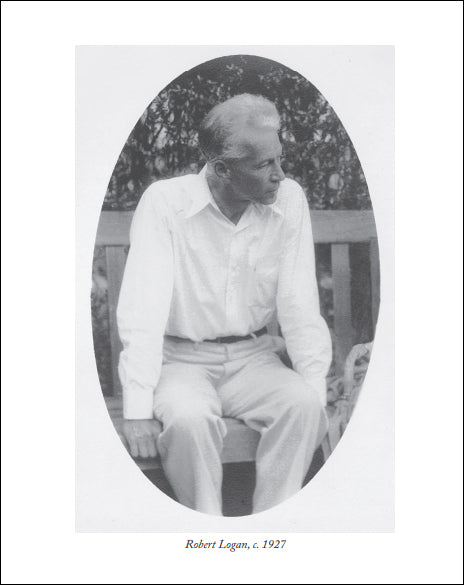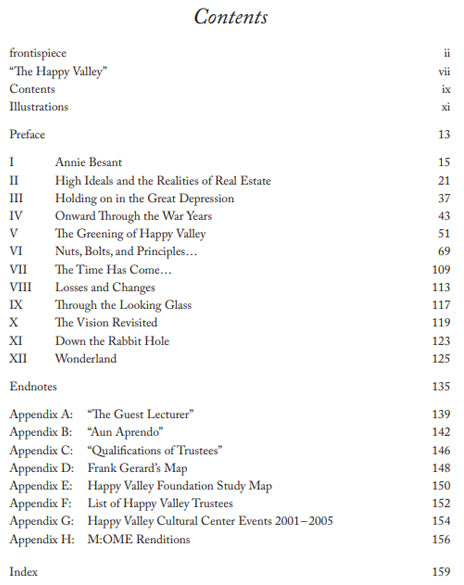 The Story of Happy Valley
By Radha Rajagopal Sloss
Paperback, 150 pages with photos.
2nd Edition Copyright © 2006 Radha Rajagopal Sloss
(2nd Edition includes three new chapters.)
One of the beauty spots of the world is the Ojai Valley in California. Mountains ring it round; it has remained secluded till recent times, and is still but sparsely inhabited. In winter snow lies on the high mountain-tops, but does not touch the Valley. The climate is superb; orange-trees laden with golden fruit grow in parts of it, apricots and other fruit-trees in other parts. The sun shines out from behind a sky of deepest blues and, as it sets behind the mountain peaks, it paints the mountainsides in various purples and violets, and, when clouds float in the clear air and stream across the blue, it paints them in deepest crimson and glowing orange, and through the gaps we see lakes and rivulets of greenish blue, a panorama of gorgeous splendor, that I have only seen rivaled in Egypt or, in the rainy season, in India.
The Valley itself has stretches of flat land broken by curving mounds and hillocks of considerable height, with the great mountains, barren and rugged, holding within their protecting arms the smiling Vale from end to end. Such is the setting for the cradle of the New Civilization in America. (Annie Besant, Ojai, 1927)
This is the story of how that vision became a reality. It all began with a visit to Ojai valley. The vision was based on the conviction of Annie Besant and those who believed with her that certain spiritual ideals can bring about practical and effective social changes, alleviating misery and human violence. Though her vision may not be completely fulfilled, it is an ongoing process presently being realized through the Happy Valley School and the community slowly forming on the land.
About the Author
Radha Rajagopal Sloss grew up in Ojai, California, where her parents and J. Krishnamurti shared a home. Radha is a graduate of the Happy Valley School (now called the
Besant Hill School
), attended Swarthmore College for two years, BA from Scripps College and received an M.A. in Comparative Literature from UC Berkeley.
She has written two published books, India Beyond the Mirror, and Lives in the Shadow with J. Krishnamurti.  She has also written The Happy Valley Foundation's 'in-house' volume entitled The Story of Happy Valley.
Radha's earliest memories include picnics on Happy Valley. She and her husband, James Sloss met in the first year of the Happy Valley School with which they are still associated. Radha has served on the Happy Valley Foundation Board. 
Radha currently lives in Santa Barbara, CA with her husband James.