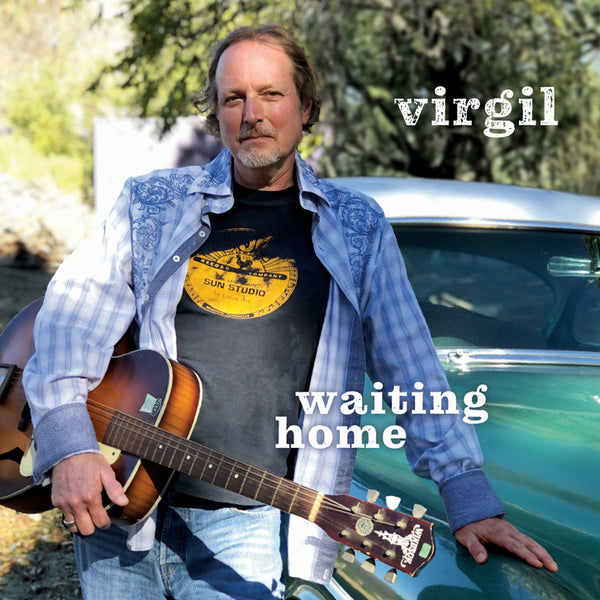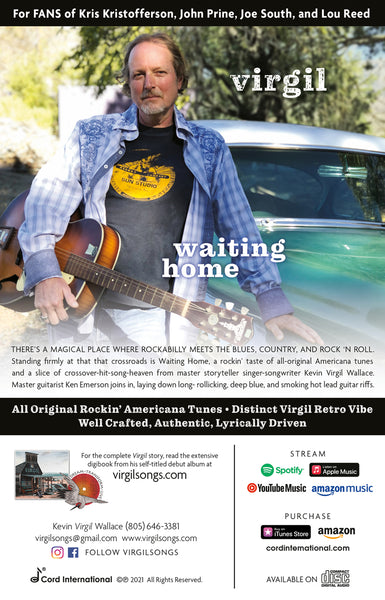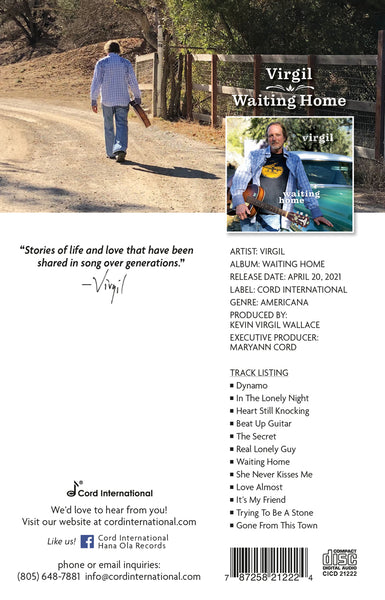 Virgil - Waiting Home
CD by Kevin Wallace
Director of the Beatrice Wood Center for the Arts
Waiting Home is a slice of crossover hit song heaven.  There's a magical place where Rockabilly meets the Blues, Country, and Rock 'n Roll.  Standing firmly at that crossroads is Waiting Home, a rockin' taste of all-original Americana tunes where diverse root music influences break through boundaries and barriers to reveal treasure.  Master storyteller singer-songwriter Kevin Virgil Wallace bares his heart and soul, enchanting the imagination with well-crafted, authentic, lyrically-driven tales of love, and loss and heartache with distinct Virgil retro vibe.  Monster master guitarist Ken Emerson joins the band, laying down long-rollicking and deep blue guitar riffs best described as some of the hottest lead guitar known to Planet Earth.
100% of the sale of this CD will go towards Educational Programming at the Center.
Our Work at the Center Concerns Inspiration
Caring for the legacy of Beatrice Wood, and the other fascinating individuals who created and cared for the Happy Valley Foundation over the decades, requires us to share their stories and connect with the spirit of possibilities for a better life, individually and globally. We share Beatrice Wood's story of reinvention – from her pursuit of freedom, individuality, love and expression as a young woman, through her taking up ceramics at the age of 40, to enjoying the best years of her life in her 80s and 90s, becoming a published author and creating art until her passing at the age of 105. Every weekend, hearing her story, a visitor inevitably turns to a friend and says, "there is hope" – and indeed Beatrice Wood always told visitors that they should pursue their dreams, by embracing discipline in harmony with inspiration, a life-long love of learning, and a commitment to do the work.

I believe that people should practice what they preach, and that is one of the reasons why, at the age of 60, I decided to record albums of the songs I had written over the decades. There was also the fact that my wife Sheryl and I are responsible for raising the funds to keep the Center alive, and I felt that it would be a way of raising funds. While I haven't worked out the details of a benefit performance or performances, if you order the CD from the Center, 100% of the sale goes to support our educational programming.
Virgil's Waiting Home
Virgil's new album, Waiting Home, has just been released. Created during the 2020 COVID-19 lockdown, the album serves as a continuation of storytelling skills and a distinct retro vibe that defined his self-titled debut album, Virgil. The two releases share the music of a singer/songwriter who was reluctant to step into the spotlight until his 60th birthday. 
For the last decade and a half, Kevin Virgil Wallace has been focused on his work as founding director of the Beatrice Wood Center for the Arts in Ojai. Caring for the legacy of Beatrice Wood, the fascinating individuals who were part of her life and career, and those who created the Happy Valley Foundation, Wallace kept his work as a singer/songwriter secret from all but a small group of close friends. All of this changed when he realized that, at 60 years of age, he had limited time to make certain that the songs he had brought into the world would ever be heard.
"One of the things that I share with people at the Center is that the artist's role is simply to be a conduit – about keeping the channel open and the muse involved," Wallace says. "For that reason, I've always felt that the songs weren't necessarily mine to keep hidden, so have long felt like I had some sort of secret life. But also, as director of the Center, I'm very much aware that we're in the inspiration business. Every weekend, I talk to people who are impressed that Beatrice Wood continued to work and even thrived through her 80s and 90s. I realized that it was important that I do the same, as I know there are countless aging artists, musicians and writers who may be inspired to follow their dreams, even if they are feeling a little past their prime, or worse for wear."
It was also important to be honest about his identity, as someone who grew up inspired by relatives who played what they called "hillbilly music" in the living room of their Southern Ohio farmhouse. For this reason, the album was released under his middle name "Virgil" – the name both his grandfather's shared.
"I would never tell anyone my middle name, as it felt like sort of an old world, unhip name," Wallace admits. "But it was the perfect name for sharing an authentic part of my identity."
Having spent decades involved in the art world, for the most part hiding these roots, and passion for music that was not exactly on the cutting edge of the music scene, the term "Americana" began to be applied to the music he grew up with, and he found that there might indeed be an audience for the music he loved. The singer/songwriter tradition of his musical heroes was also again being appreciated.
Virgil's self-titled debut album of all-original songs was a celebration of his 60th birthday. Most of the tracks were recorded at the Beatrice Wood Center for the Arts, with master guitarist Ken Emerson – who often performs at the Center – laying down long-rollicking, deep blue, and smoking hot lead guitar riffs. Wallace's friend Andrew Ellison, who he began playing music with while in Middle School, recorded his drum parts remotely from his home in Northern Michigan. The vocals were recorded, and the album mixed, at Castaway 7 Studios in Ventura, and the album was mastered by Brian Ziegler at Radiance Studios in Ojai.
"The first Virgil album was born of just wondering if I could do it – a 60 year old guy sharing himself by playing and singing his songs," Wallace says. "I recorded the second album, Waiting Home entirely in the studio and it is a different album in many ways. I was the songwriter, but worked more as arranger and producer, giving Ken Emerson more room to play, bringing in backing vocals with a singer recording in Austria. The more expansive influence of AM childhood from my youth, with soul and rockabilly came into play.
Looking back, it's easy for Wallace to see how his career in art was born of a childhood fascination with the instruments his Uncle Claudie, Aunt Angeline and friends played in the living room of their Southern Ohio farmhouse: "Guitars, mandolin, banjo… the forms, materials and sounds seemed magical to me and led to my life's work in the arts. It's important for all of us to connect with our creativity, embrace dreams that fell by the wayside, and to inspire others. Just like Beatrice Wood, who didn't throw her first pot until she was forty, I want folks to know it's not too late to record that album, write that novel, or begin creating works for exhibition and performance."
Cord International
Ojai native and resident Maryann Cord, is the Co-Founder & CEO of Cord International Media Group. Cord International's Hana Ola Records is known as the first name in vintage Hawaiian music, a music recording and licensing company passionately dedicated to preserving, restoring and releasing lost real Hawaiian music, with a huge catalog of recordings.